What is Dyspraxia?
Dyspraxia, sometimes referred to as 'clumsy child syndrome', is a developmental co-ordination disorder that tends to be recognised in children. Dyspraxia causes the child difficulty in organising movement, they tend to struggle both with the planning of what to do and how to do it.
Dyspraxia affects up to ten percent of the population, with two percent of these cases being severe. It affects boys four times more commonly than girls, and can sometimes run in families. Dyspraxia does not affect IQ or overall ability; it purely affects motor aspects of development. As a
learning difficulty
, dyspraxia means the person struggles to learn intuitively by doing, and
motor skill development
responds much more positively when taught through a process of imitation.
Dyspraxia is also often associated with problems of perception, language and thought, symptoms commonly characteristic within disorders of the
autistic
spectrum.
Physiotherapy can be used to help a dyspraxic child and adult achieve their potential. Your physiotherapist will use a range of techniques and exercises to help improve co-ordination and achieve developmental goals.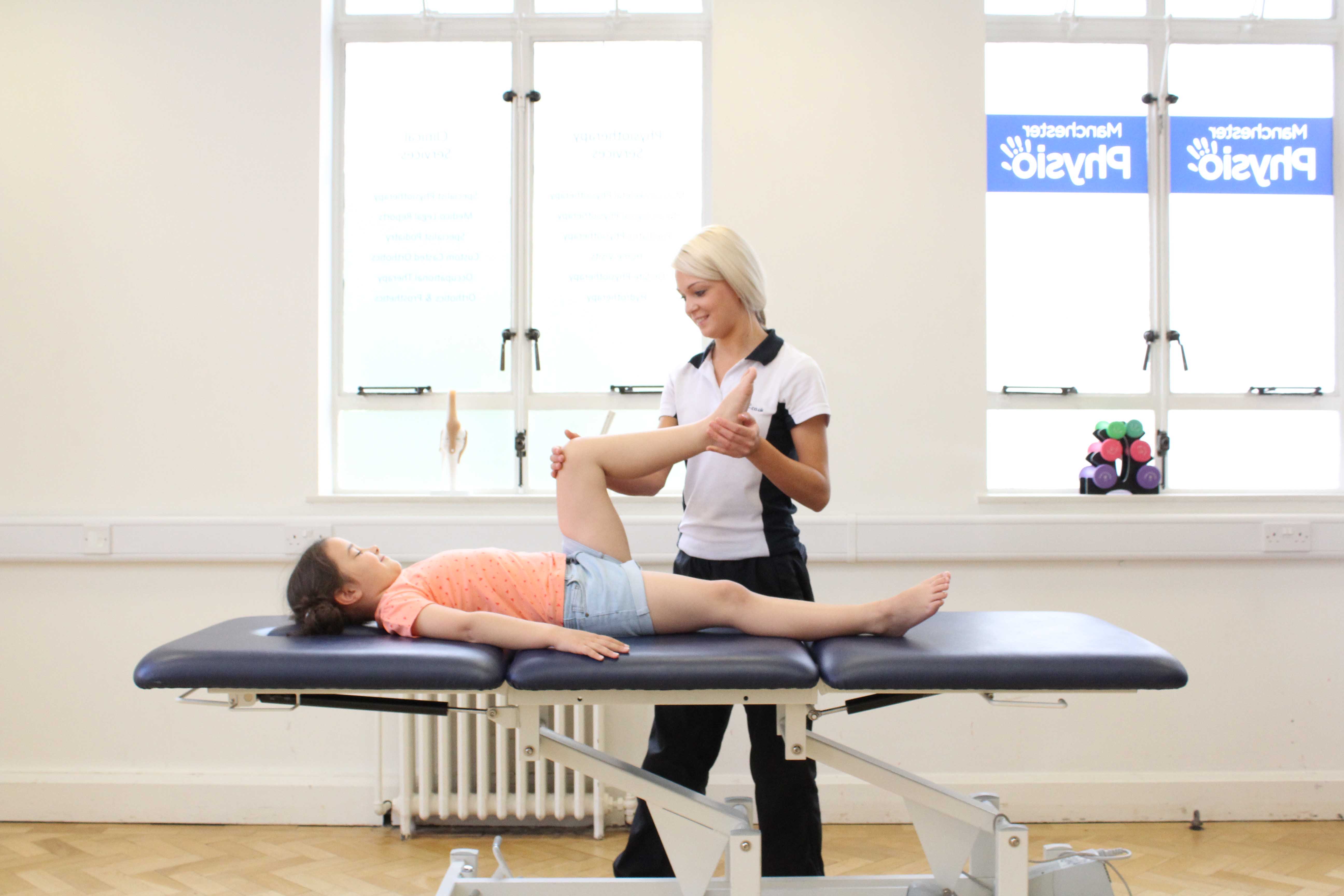 Above: Gross motor skill exercises to develop co-ordination and mobility
What are the symptoms of Dyspraxia?
Children with Dyspraxia are often late to reach developmental milestones such as rolling over, standing or walking. Once these milestones are met the child is likely to present with:
Difficulty in understanding positional concepts such as 'in front of', 'behind', 'to the right of', 'to the left of', or 'under'
Frequent falls, or often bumping into things
Difficulty with puzzle games, frequently bored and easily distracted
Difficulty in following a sequence or set of instructions
Difficulty with sports due to poor hand-eye and foot-eye coordination
Poor fine motor control (small precise movements)
Altered techniques to deal with everyday life such as altered pencil grip, or altered way of getting up from the floor.
How can Physiotherapy help in Dyspraxia?
A full physiotherapy assessment will be carried out by the physiotherapist to determine current abilities, and whether or not this matches the expected level of skill for that age. This assessment will involve:
carrying out physical tasks
chat with parents, carers as to the difficulties experienced in everyday life
opportunities for the child to voice any concerns they may be experiencing personally
A child with Dyspraxia requires a lot of encouragement to achieve their full potential. Our experienced team of physiotherapists will be able to work on:
Achieving developmental goals
Organisational strategies
Hand-eye or foot-eye co-ordination activities
Development of positional awareness
Pencil grip and writing technique
Skill acquisition through imitation
Posture and walking pattern
Our specialist physiotherapist will be able to provide advice to parents, carers and friends on how best to manage the condition and work alongside the patient in allowing to realise and achieve their potential.
What are the benefits of physiotherapy for someone with dyspraxia?
Physiotherapy will work on all aspects of difficulty the child faces on an everyday basis. A personalised treatment plan will allow the child to understand the importance of organising movement into specific sequences in order for it to be effective. It may also have a number of other positive effects for the child:
Increased confidence
Self-belief and self-awareness
Allow them to carry out everyday tasks more easily
To find out if Physio.co.uk may be able to help someone you know with Dyspraxia call today on
0330 088 7800
to arrange an appointment. or
book online
today!