What is scoliosis?
Scoliosis in children is an abnormal curvature of the spine. Scoliosis can be a C-shaped or S-shaped. Scoliosis in children can cause
pain
,
stiffness
and
difficulty breathing
. Signs of scoliosis in children may include:
One shoulder blade is higher than the other
One hip is more higher and more prominent than the other
The ribcage is more prominent on one side
Your child leans to one side
Scoliosis is usually idiopathic which means that the cause of curvature to the spine is not known. Scoliosis is more common in children with neuromuscular conditions such as
Cerebral Palsy
and
Muscular Dystrophy
because of
muscle weakness
and muscle imbalance.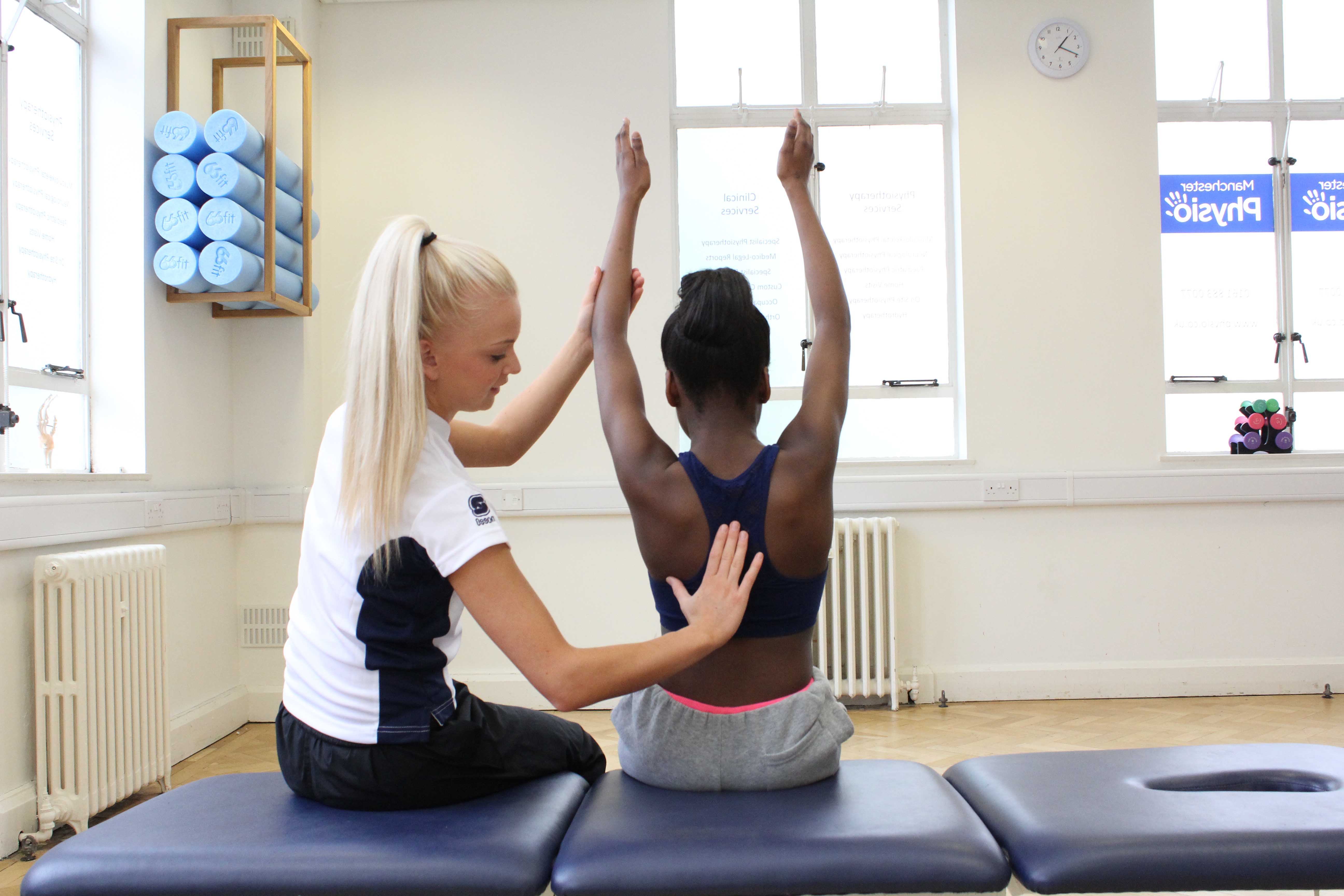 Above: Postural realignment by an experienced paediatric physiotherapist
Types of scoliosis
The three types of scoliosis in children include:
Infantile Scoliosis which occurs before the age of three
Juvenile Scoliosis occurs in children aged between the age of 3 and 10
Adolescent Idiopathic Scoliosis (AIS) which occurs between the age of 10 and 14
Scoliosis can also be classed as postural or fixed.
Postural scoliosis –usually occurs secondary to other problems, such as muscle imbalance, or a hip tilt (often due to a shorter leg) and can be corrected by positioning or stretching exercises.
Fixed scoliosis – means that the curvature of the spine is permanent and occurs due to deformities in the bones themselves. A fixed curve cannot be straightened by positioning.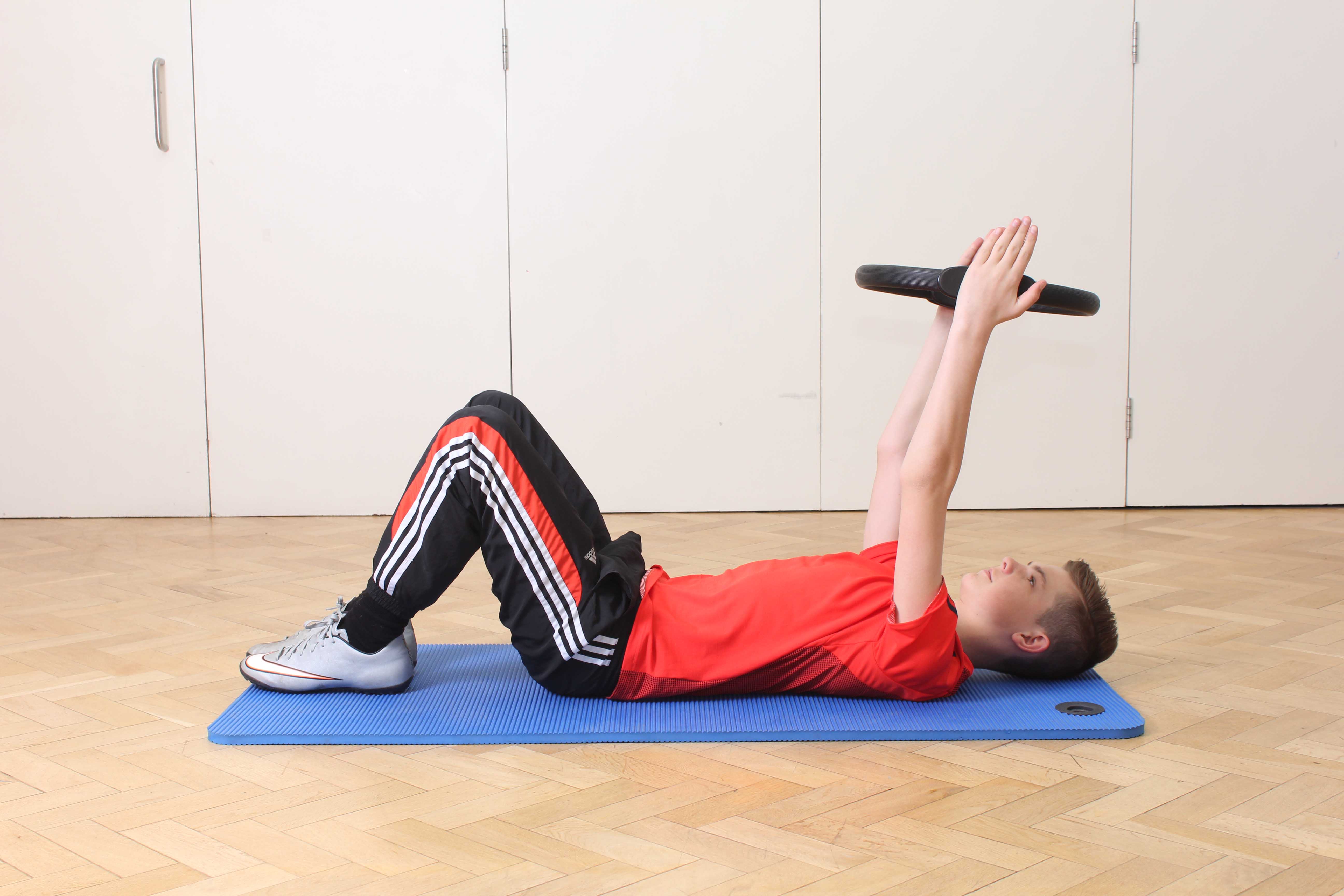 Above: Sretches and realignment exercises for the back
Conservative treatment for scoliosis
Physiotherapy
treatment for scoliosis will help maintain movement and flexibility of your child's spine, reduce pain and maximise function. At Physio.co.uk our specialised paediatric physiotherapists will help your child manage their symptoms so that they can continue to enjoy activities at home or at school with friends and family.
Physiotherapy may involve:
Orthopaedic braces -
These are sometimes used in younger children to help realign the spine or prevent the curve from worsening and delay the need for surgery.
Lycra suits
– These suits are made of lycra and cover the whole body to help maintain or reduce the curve of the spine and help improve hip position and trunk stability.
Surgery for scoliosis
In severe cases need some children may require surgical correction which may involve fusion of the vertebrae (bones in the spine) and fixing it together with rods, hook or screws to keep the spine straight.
Physiotherapy following surgery
At Physio.co.uk we provide comprehensive assessment and treatment for children following spinal surgery. It is important to commence physiotherapy treatment as soon as possible following the surgery for the best possible recovery. Our paediatric physiotherapist at Physio.co.uk will help rebuild your child's strength and flexibility and improve posture in a safe and effective way so they can continue with the activities they enjoy at home or at school. Physiotherapy treatment will be focused on:
Relieving pain and swelling
Restoring and maintaining range of movement
Increasing muscle strength
Improving posture
Increasing comfort
Enhancing independence with everyday activities
Improving quality of life
Our motivated paediatric physiotherapists are experienced at treating children and adolescents following spinal surgery. An initial assessment with one of our physiotherapists will look at your child's movement and current symptoms and a structured rehabilitation program will be developed suited to your child which may involve:
Physiotherapy will help maximise your child's physical potential following surgery and increase independence with the activities at school or home. Your physiotherapist at Physio.co.uk will guide and support your child throughout their rehabilitation program so that they get the most out of their treatment.
For more information or to book an appointment please call
0330 088 7800
, or
book online
today!