Thoracic laminectomy
A thoracic laminectomy is the surgical process of removing the lamina (bony structure of the spinal canal) to give more room for the spinal cord and nerve roots. Removing part or all of the lamina increases the size of the spinal canal and releases pressure from either a nerve or the spinal cord within the thoracic spine. This pressure is often referred to as spinal stenosis and can cause pain and weakness.
A laminectomy of the thoracic spine is usually recommended for individuals with prolonged back pain in the mid back, chest or ribs that interferes substantially with their everyday activities.
Above: Assessment of the upper back muscles by experienced therapist
Physiotherapy before a thoracic laminectomy
Physiotherapy is an important part of your treatment before your surgery. Regular exercise in the weeks prior to your operation will strengthen the muscles in your back and keep the joints flexible. Incorporating daily exercise into your lifestyle will help insure that your body is as fit as possible before your surgery.
Symptoms after a thoracic laminectomy
You may need pain relief to help with any discomfort after your surgery. A physiotherapist will usually visit the day after your operation to guide you through exercises and simple movements like getting out of bed correctly and comfortably. You will stay in hospital until you are able to use stairs and mobilise independently with or without a frame. This will usually be around five days after your operation. Your physiotherapist will provide you with exercises for you to continue at home as they are a crucial part of your recovery.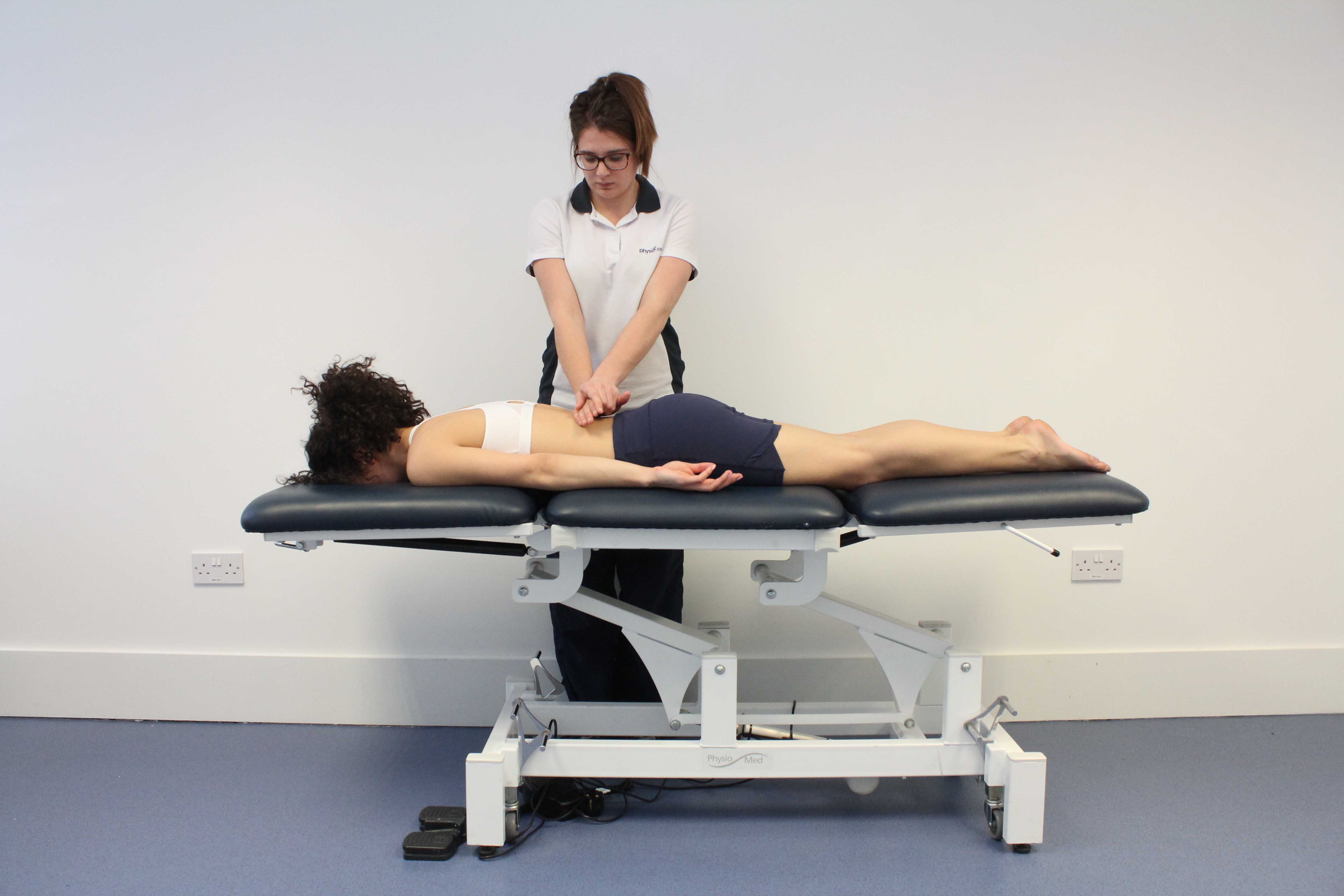 Above: Experienced MSK physiotherapist conducting upper back assessment
Physiotherapy following a thoracic laminectomy
Physiotherapy treatment is an important part of helping you get the most possible benefit from your surgery. At Physio.co.uk our specialised physiotherapists will help you recover from your surgery as quickly and completely as possible.
1-2 weeks
During the first couple of weeks after your surgery, your physiotherapist at Physio.co.uk will manage you pain and increase your confidence when moving. Controlling pain will help you regain your strength. Physiotherapy treatment in the initial stages of recovery may include:
Ice application
Advice about positioning of the spine in lying, sitting and standing.
Gentle range of movement exercises
Electrotherapy such as ultrasound
Your physiotherapist will show you some exercises to help increase mobility of the spine and prevent any soft tissue shortening. Your physiotherapist will also provide you with information about the activities to avoid and ways to enhance your recovery such as positioning during sleep.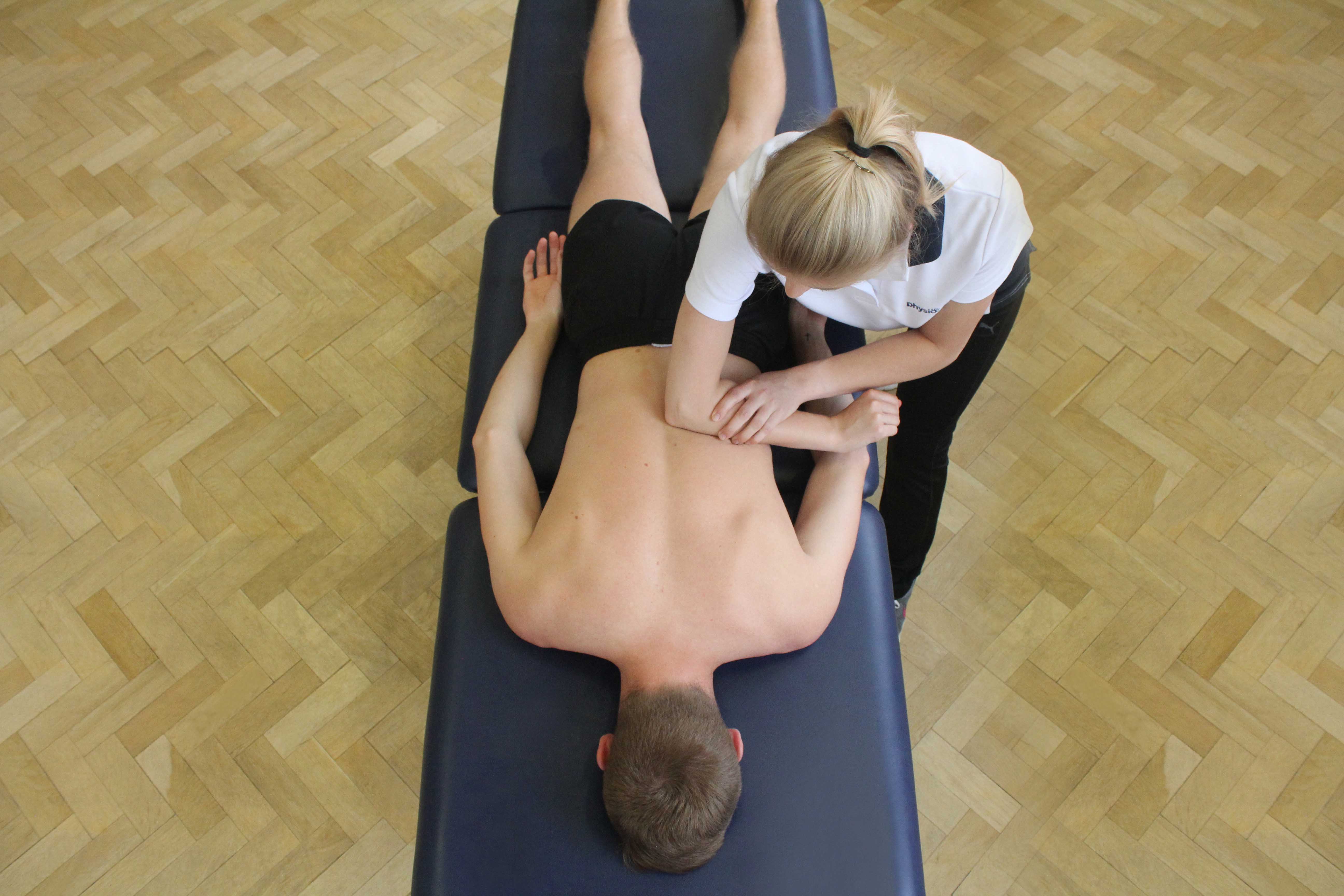 Above: Trigger point massage of the muscle and connective tissues in the upper back
2-6 weeks
At Physio.co.uk, Your physiotherapist will develop a training program tailored to you, taking into account your needs and requirements to get you back to activity safely. Individualised physiotherapy treatment at this stage of your recovery will help mobility and flexibility in your spine, hips and legs. Your physiotherapist will select the movements that target specific muscles and joints to increase the stability of your spine. Physiotherapy treatment may include:
Continuation of passive and active range of movement exercises
Stretching to lengthen tight muscles
Isometric strengthening of the back muscles
Walking program
Stationary cycling
Ergonomic advice
Your physiotherapist will make sure that these movements are done safely and effectively.It is important to continue these exercises at home on a regular basis for the best possible recovery.If your physiotherapist is confident you are able to return to work, ergonomic advice with be provided such as posture in sitting, lifting and bending.The time is takes for you to return to work will depend on your individual circumstances as well as the nature of your job.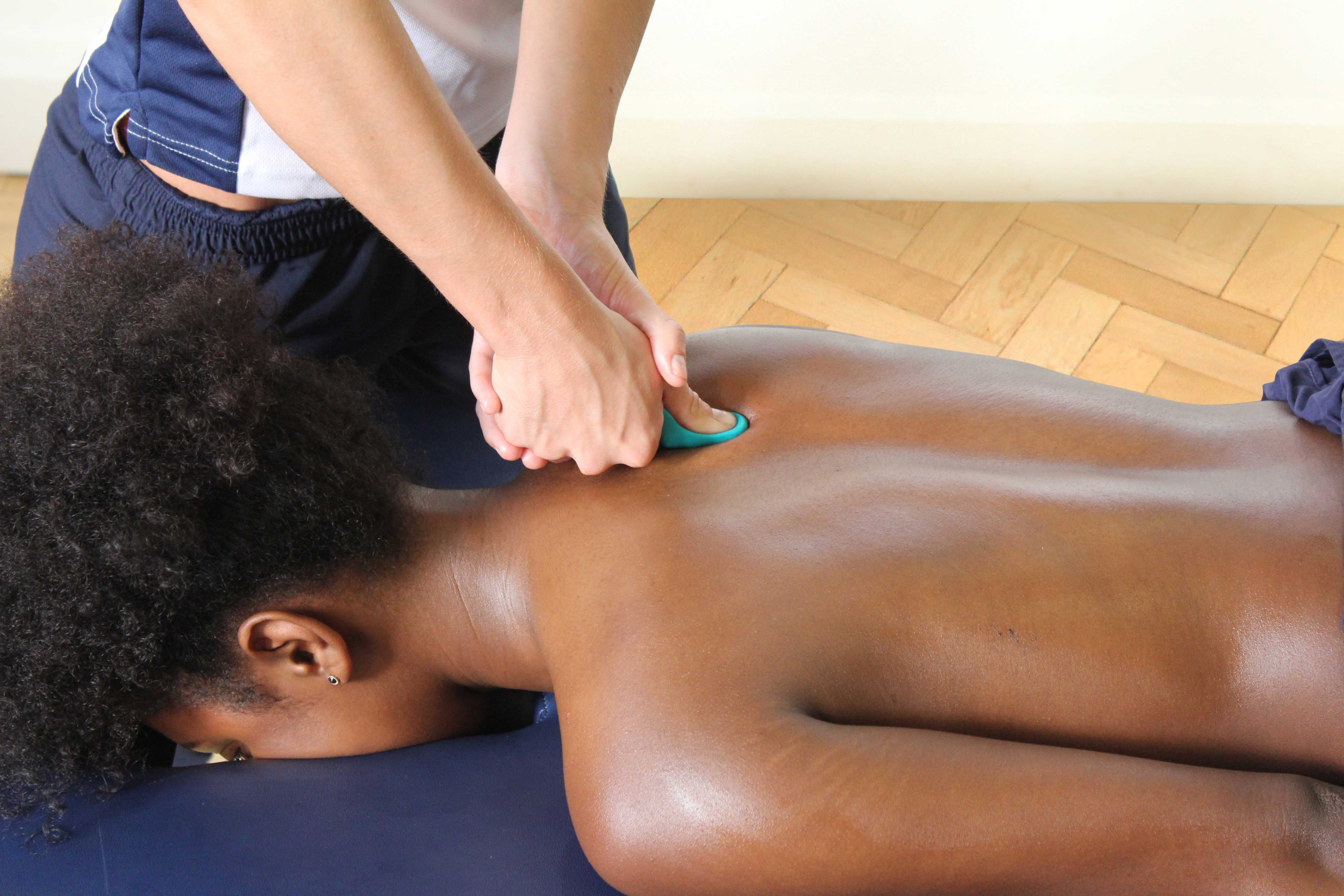 Above: Trigger point massage of the muscles in the upper back using a therapy aid
6-12 weeks
At this stage in your recovery, your physiotherapist at Physio.co.uk will focus on progressing your exercises to strengthen muscles, eliminate fatigue and prevent re-injury. Your physiotherapist will concentrate of facilitating muscles that need special retraining to gain strength and provide stability following your surgery. Physiotherapy treatment may focus on:
Core stability strengthening
Abdominal and back strengthening exercises with external apparatus
Continued aerobic exercises such as walking, swimming and stationary cycling
Stretching to maintain increase in muscle length
Exercises that are specific to your functional and sporting activities
12+ weeks
The aim of physiotherapy at this stage is to return you to the activities you most enjoy whilst continuing to increase muscle strength, range of movement, posture and your independence with daily tasks.
With one on one treatment over a long period of time, you will notice the changes that have occurred and feel confident to resume your normal activities. Your success in recovery will take time and dedication. With the help and support from our motivated physiotherapist at Physio.co.uk, you will make long term improvements which will improve the quality of your life.
For more information call Physio.co.uk now on 0330 088 7800 or to book an appointment please contact us
.