Pregnancy can produce many side effects on the body. During pregnancy, the body goes through many changes that can cause stress and irritation. Pregnancy massage is a hands-on massage which can be performed during or after pregnancy (prenatal or postnatal massage). Lying side-line is the most common position for a pregnancy massage with the use of pillows to make it as comfortable as possible. A range of massages can often relieve many common side effects of pregnancy ranging from headaches, muscle aches, swelling and stress. Massage therapists at Physio.co.uk can use massage during pregnancy as an effective treatment to manage a range of conditions.
What types of massage is used during pregnancy?
There are many types of massage that can be used during pregnancy. The types of massage used during pregnancy are: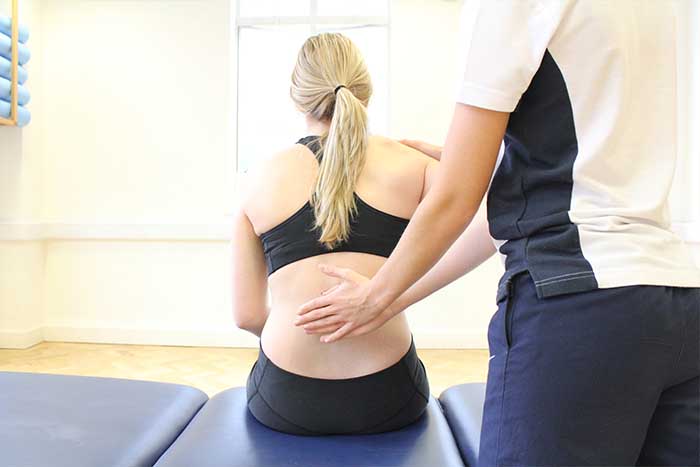 When can massage help during pregnancy?
Massage during pregnancy can help on many occasions. These include: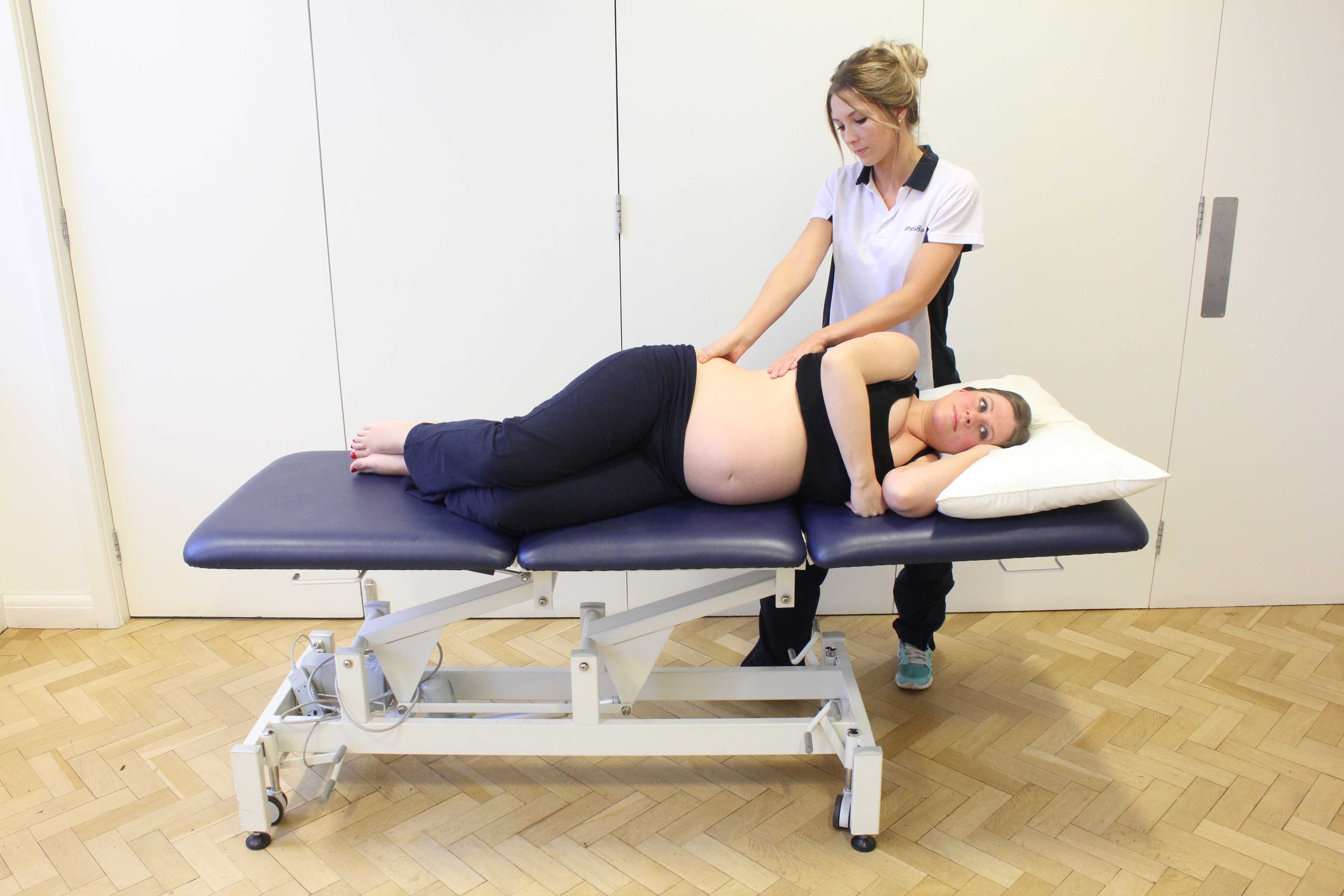 Above: Soft tissue massage to ease muscle pain associated with pregnancy
Massage can help relaxation during pregnancy. Relaxing massage is an effective treatment used commonly throughout pregnancy. Massage is used during pregnancy to help reduce emotions such as anxiety and stress, improve mood and promote muscle relaxation. Massage helps by increasing temperature of the soft tissues, reducing stress hormones and promoting an overall sense of calmness and well-being.
Massage can also help to reduce stress levels. During pregnancy, hormone levels associated with stress are significantly altered leading to mood changes. Hormones such as norepinephrine and dopamine are stress hormones which can be increased during pregnancy. Massage can be used to help reduce dopamine levels and improve mood. Changes in the hormone levels can also lead to fewer complications during birth and reduce complications with the newborn, such as low birth weight.
Pregnancy aims to relieve tight muscles and encourage a general sense of relaxation. Often during pregnancy, the body changes and begins to put more pressure through joints and soft tissues. When muscles tighten, flexibility is reduced. Inflexibility affects range of movement and can lead to muscle injuries. Tight muscles can begin to pull the body out of neutral alignments which can cause long term problem. Massage helps treat tight muscles by increasing temperature of the soft tissues and improving circulation. Increased temperature relaxes the muscles and helps decrease tension that causes tightness.
Massage is a beneficial treatment to help treat acute aches and pains. During pregnancy, pressure is increased on the joints and can put stress onto the back, neck, shoulders and pelvis. Pregnancy also relaxes ligaments and tendons around joints making them less stable. Less stable joints change posture and begin to irritate soft tissues. Pain becomes apparent due to the added stress and changes to the body. Massage can help alleviate acute aches and pains by releasing endorphins and relaxing muscles.
What are the physiological effects of receiving a massage during pregnancy?
Massage can produce many important physiological effects on the body. The physiological effects of massage during pregnancy include: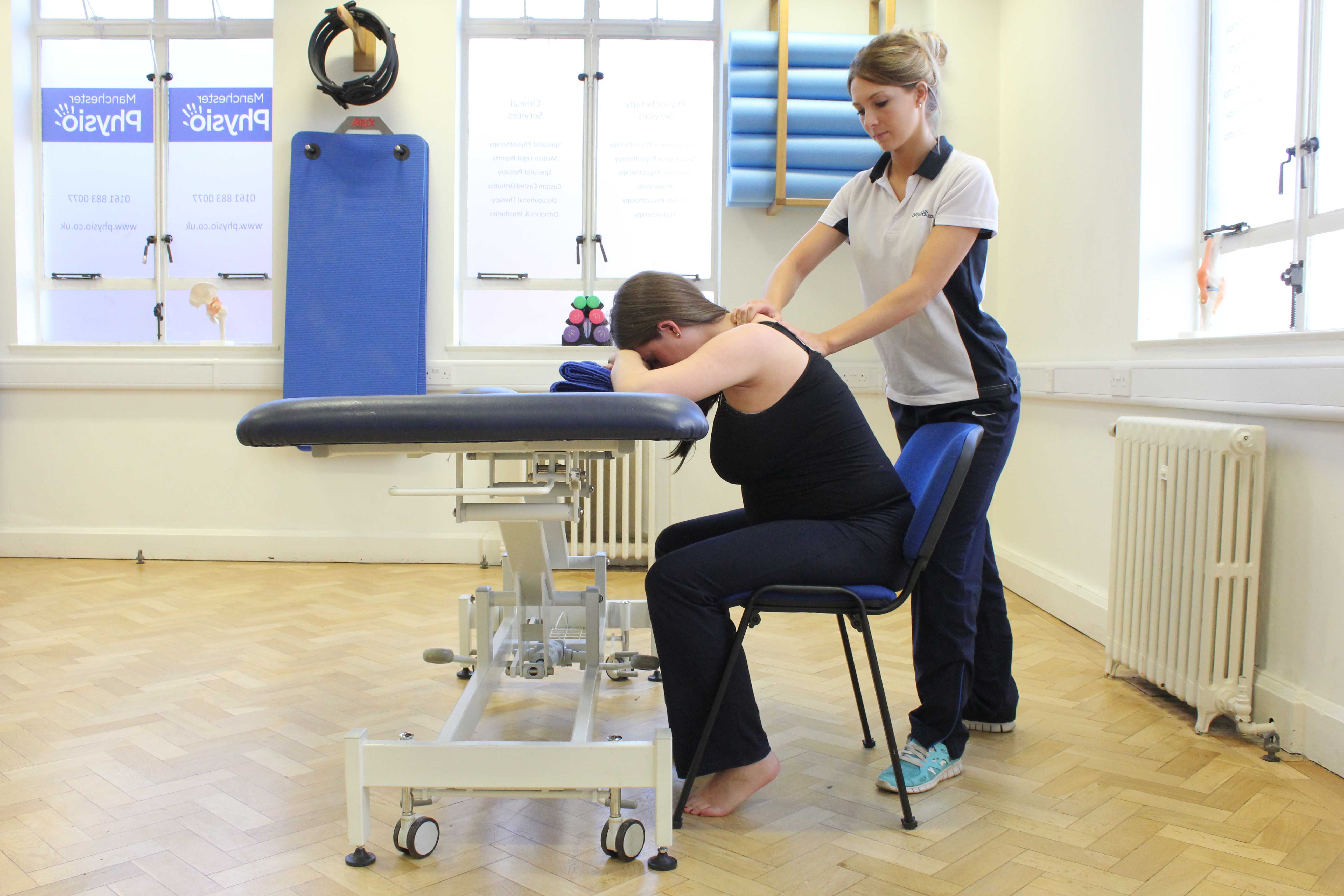 Above: Soft tissue massage to ease muscle pain associated with pregnancy
Massage increases venous return in the body. Venous return is the amount of blood returning back to the heart. Venous return can be reduced due to poor circulation during pregnancy. Increasing venous return is important to maintain healthy blood flow to the muscles and heart. Massage increases venous return by applying pressure onto the skin. Pressure onto the skin stimulates vasodilation and capillarisation in the blood flow. Vasodilation and capillarisation is the widening of blood vessels and the increase of blood cells. Massage also applies specific strokes in an upwards direction promoting the blood circulation towards the heart.
Massage also increases feel good hormones in the body. Feel good hormones such as endorphins, serotonin, dopamine are increased by massage. Increasing feel good hormones is beneficial during pregnancy to help prevent emotions such as stress and anxiety. Increasing hormones can also help stimulate natural painkillers that can help reduce aches and pains caused during pregnancy.
Massage helps to decrease a stress hormone called cortisol in the body. During pregnancy cortisol is increased causing emotions of stress, anxiety and depression. Increased levels of cortisol can affect sleep and contribute to risks during birth. Massage helps decrease the cortisol hormone being released from the brain by stimulating the parasympathetic nervous system and releasing feel good hormones.
What are the benefits of receiving a massage for pregnancy?
Massage during pregnancy has many benefits. The benefits of massage for pregnancy include:
One of the most common benefits of massage during pregnancy is reducing stress levels. Massage can contribute to improving both physical and mental well-being. Hormones during pregnancy can increase and are responsible for many emotional changes. Massage can lower the production of stress hormones released from the brain. Reducing stress hormones such as norepinephrine and dopamine reduces the feelings of anxiety, improves mood and helps increase sleep.
Massage is beneficial to improve circulation. Edema or swelling in a joint can occur during pregnancy, often caused by reduced circulation. Reduced circulation causes increased pressure in the blood vessels causing excess fluid. Massage helps to reduce swelling by stimulating the blood around an area. Increased circulation helps reduce the collection of fluids in swollen areas. Massage also promotes the removal of tissue waste and drains fluid into the lymphatic system where it is removed from the body.
Massage can help reduce pain caused during pregnancy. Aches and pain can increase during pregnancy due to many reasons. Muscles can become tight and aggravate nerves which produce pain. Massage can help relax muscle tissues by increasing temperature and increasing blood circulation to an area. Massage can also be used to relieve headaches by reducing tension and trigger points around the shoulders and neck.
Summary
Massage is a highly recommended treatment to receive during pregnancy. Many types of massage can be performed during pregnancy including therapeutic, Swedish, remedial and instrument assisted soft tissue mobilisation. Receiving a massage during pregnancy can help treat tight muscles, acute pains, aid relaxation and reduce stress. Pregnancy increases pressure on many areas of the body which can cause unpleasant side effects. Massage can help treat and reduce many symptoms felt during pregnancy. Massage therapists at Physio.co.uk can use massage during pregnancy as an effective treatment to manage a range of conditions.
How can I arrange an acupressure treatment?
The easiest way to arrange a massage for pregnancy at Physio.co.uk is to email us at office@physio.co.uk or call us on 0800 033 7800.
You can also book an appointment online and save £10