Physiotherapy for a fractured shaft of femur
The femur or thighbone is one of the largest and strongest bones in the body that connects the hip joint with the knee joint. Fracture to the shaft (middle) of the femur requires a substantial force because of its strength and surrounding muscle. A fractured shaft of femur is a severe injury that commonly occurs in high-speed car accidents or falls from a significant height.
Surgery is often the required treatment for a femoral shaft fracture. This may involve inserting a metal rod in the centre of the femur called an intramedullary rod which is then secured by screws. This kind of surgery will provide stability to allow early mobilisation following your injury.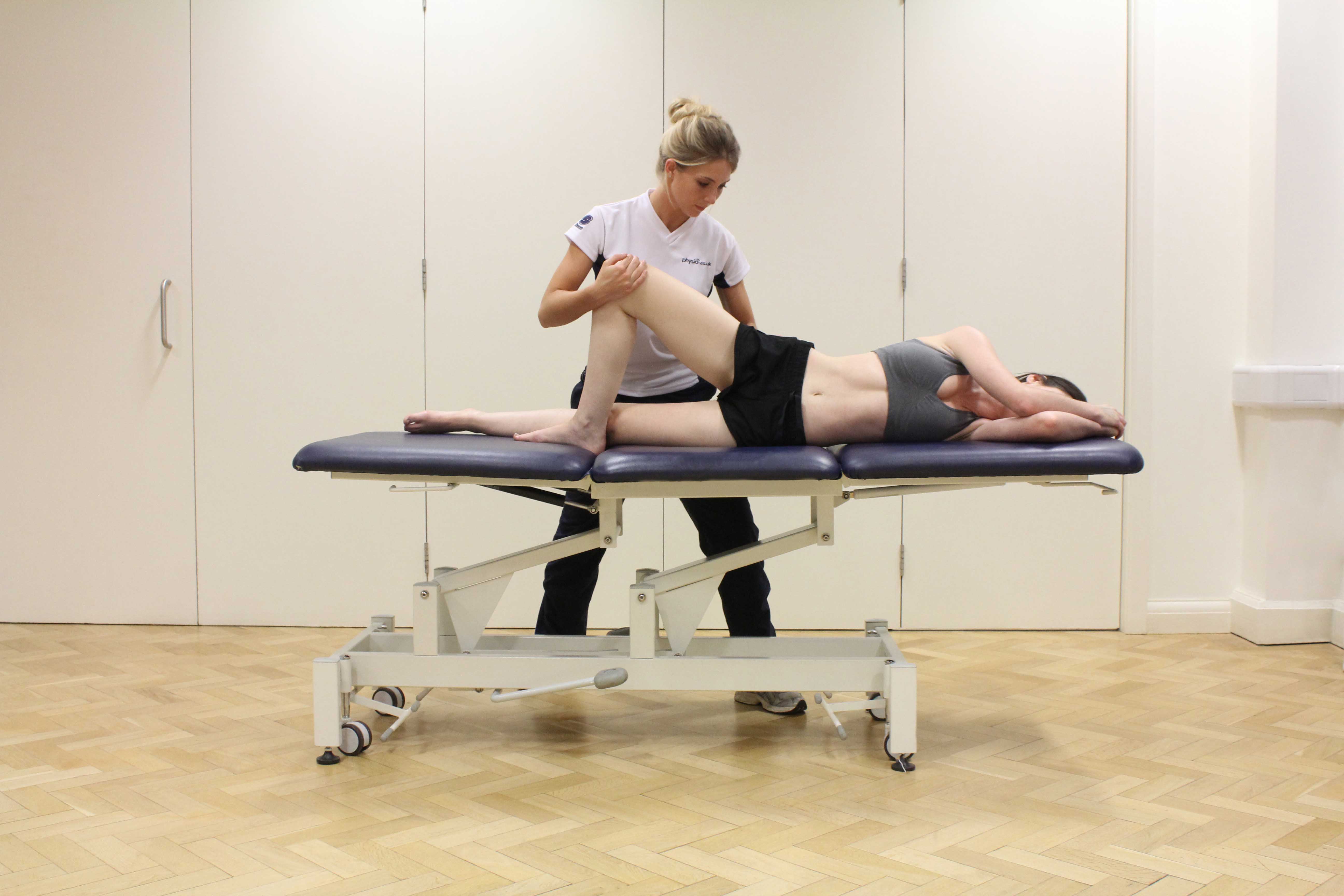 Above: Passive stretch of the hip joint and surrounding connective tissues
Physiotherapy before your surgery
A physiotherapist may visit you before your operation to discuss information about the surgical procedure and teach you some simple exercises you need to do after the operation to assist in your recovery. In some cases a Thomas splint may be used to decrease pain and minimise muscle spasms prior to your operation. This provides support for your hip, and is attached to the leg with bandages.
Symptoms following your surgery
Following your surgery you will experience some pain, swelling, loss of movement and muscle strength. A physiotherapist will visit you one or two days after your surgery, who will try and make you as comfortable as possible and teach you how to get in and out of bed and mobilise safely. You will be given a walking aid (e.g. a walking frame, crutches) to help you walk. Your physiotherapist will also give you gentle exercises for your legs and ankles.
Once you are moving around safely on your own and your physiotherapist is confident about your mobility, you will be discharged home. This will be between 5-10 days following your surgery depending on your individual circumstances. Your physiotherapist will also advise you on particular movements, such as crossing your legs that should be avoided while you are still recovering.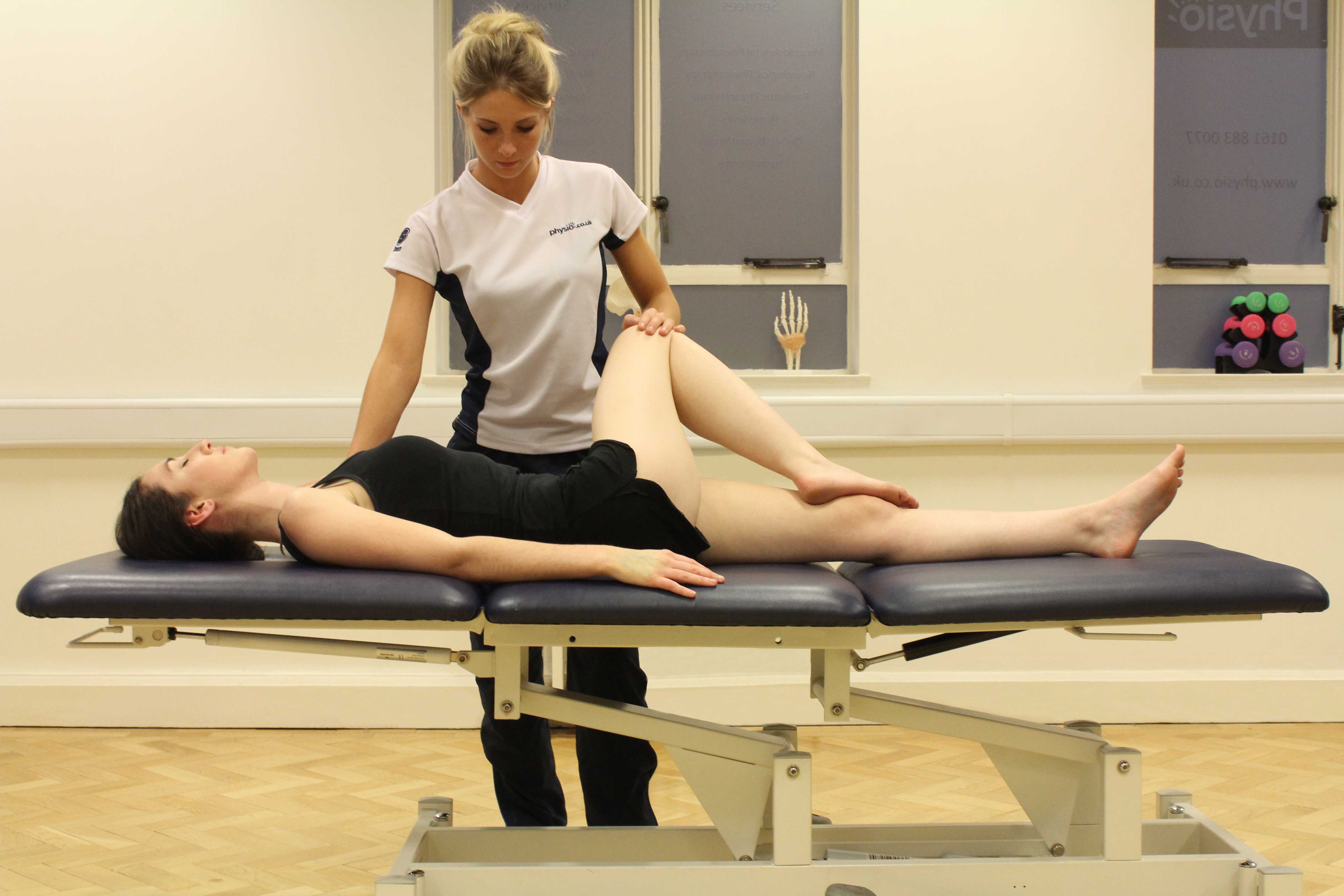 Above: Passive stretch of the hip joint and surrounding connective tissues
Physiotherapy following your surgery
Physiotherapy treatment should be continued following your operation in order to promote your recovery.
Physiotherapy treatment at Physio.co.uk will maximise your potential with home, work and social activities and regain your functional ability as soon as possible.
During the initial stages of your recovery, physiotherapy reduce pain and swelling and making sure you are comfortable in lying, sitting and standing. Early mobilisation and partial weight bearing is also important in the first week to aid your recovery. You will need to use a walking aid for a period of time following your surgery. Your physiotherapist will continue to assess your gait with and without assistive devices and teach you the best possible way to mobilise.
As your pain settles, physiotherapy will focus on restoring your range of movement in your hip joint and gradually strengthening your quads, hamstrings and glutes. These exercises will also help improve your gait and independence with everyday activities.
Your physiotherapist will develop a treatment programme containing short and long term goals to help support and guide you throughout your recovery.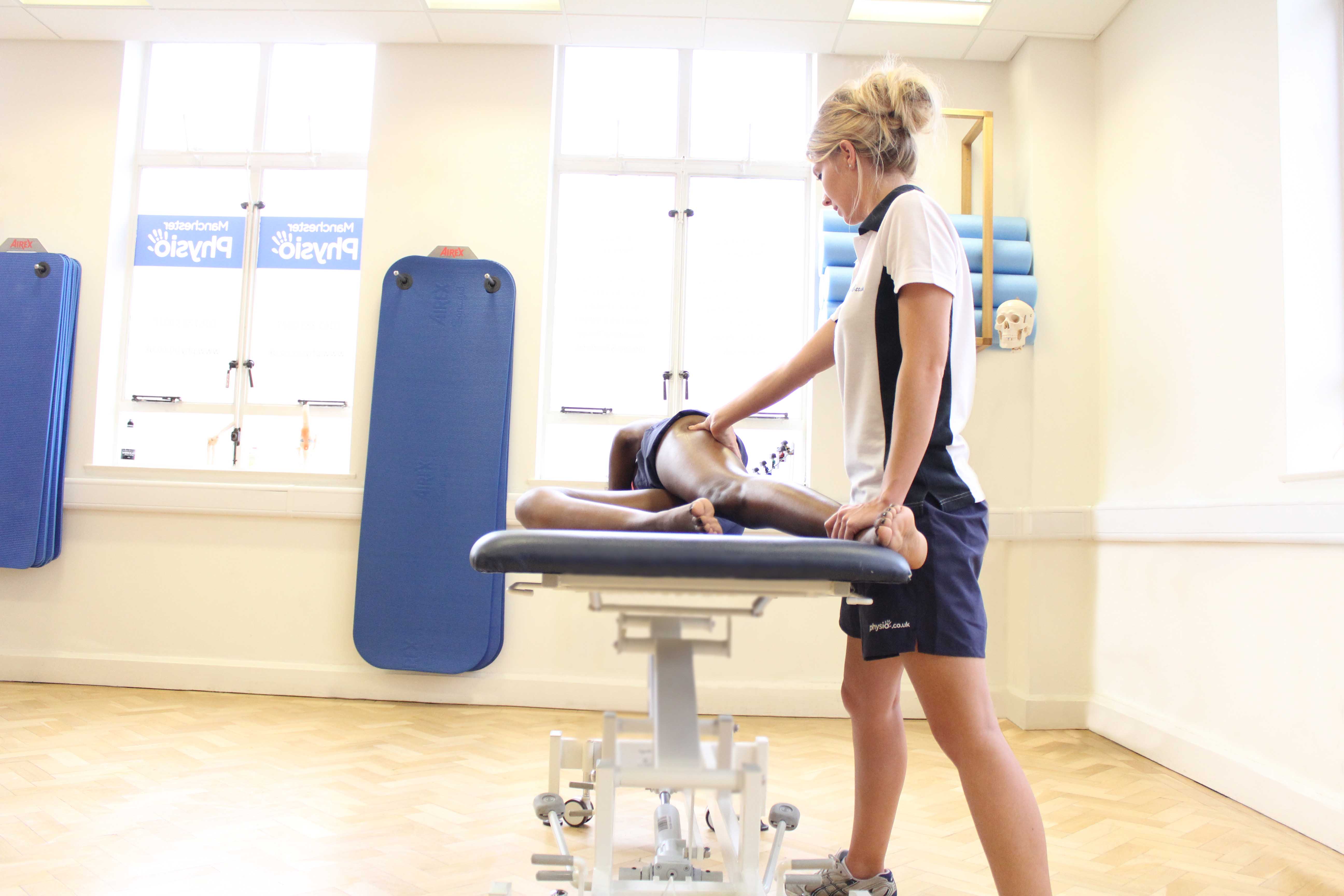 Above: Passive stretch of the hip joint and surrounding connective tissues, combined with soft tissues massage
1-2 weeks
In the first few weeks you physiotherapy programme will focus on controlling your pain and gradually starting to improve your range of movement. Treatment will include gentle passive and active movements and gait training using your assistive device. Your physiotherapist will also continue suggesting ways to get in and out of bed, on and off the toilet and up and down the stairs in the correct way.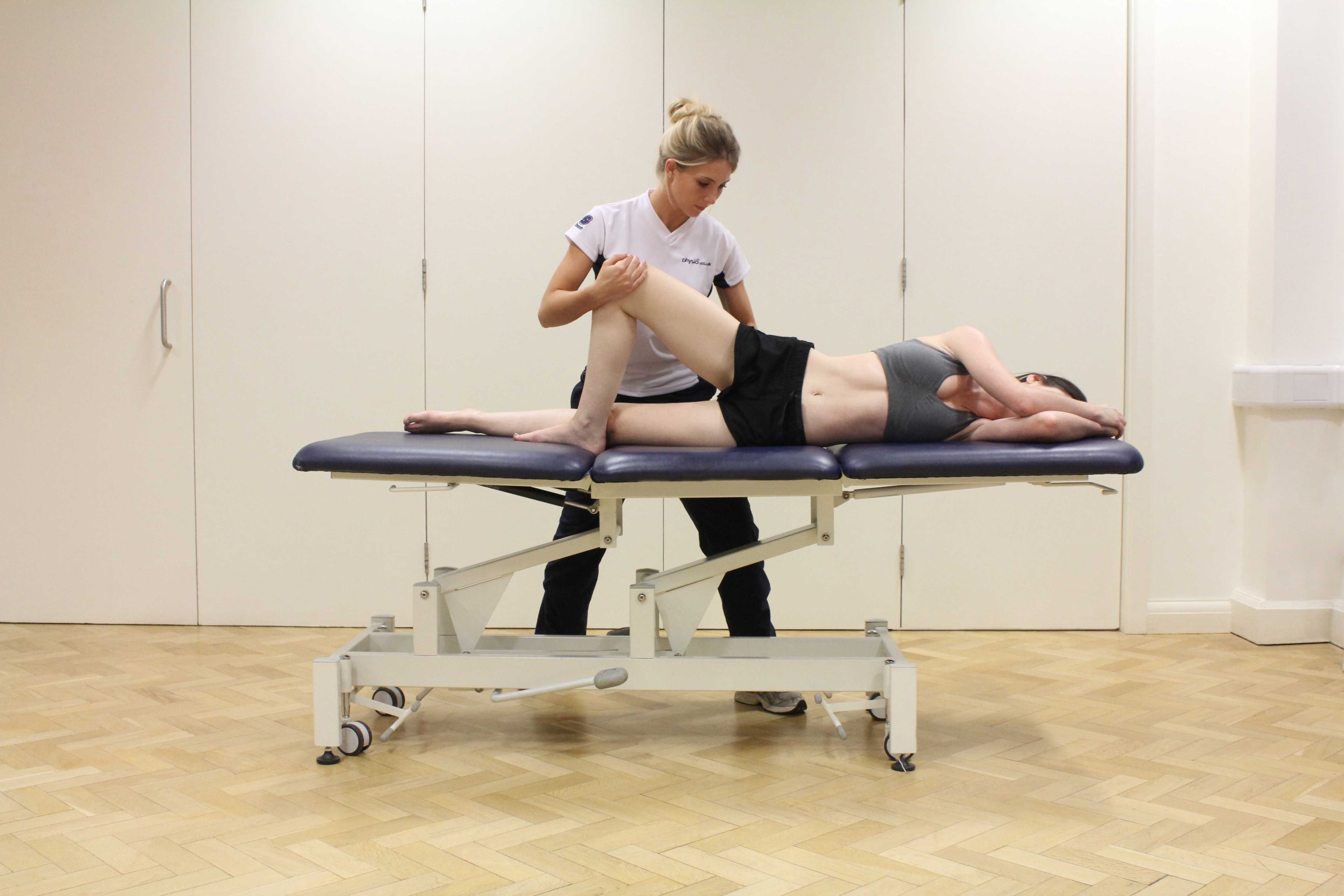 Above: Passive stretch of the hip joint and surrounding connective tissues
2-6 Weeks
Your physiotherapy programme at Physio.co.uk will progress your previous exercises to start strengthening muscles around your hip joint. Exercises will be tailored to you and centred around everyday activities. Your physiotherapist will also introduce balance exercises to improve your mobilising and confidence. Physiotherapy activities will include:
Muscle strengthening exercises for your quads, hamstrings and glutes.
Stretching exercises to increase the range of movement in your hip.
Progressing walking distance
Balance training
Gait re –education
Stationary bicycle as tolerated
6-12 weeks
You should anticipate at least a 6 - 12 week period recovery at home before you are able to resume your normal activities due to the extent of your surgery. Everyone is different so this time depends on your individual circumstances. Your physiotherapist at Physio.co.uk will at this stage by focusing on restoring your ability with daily tasks such as walking to the shops, household jobs and gardening.Hydrotherapy treatment is also a good way to maximise your mobility and relax any tight muscles. This is only appropriate when your wound has healed.
Physiotherapy treatment will include development of your exercises in order to continue strengthening muscles around you hip. Exercise will also improve your balance, flexibility and endurance. Activities to increase your fitness levels may be included such as walking, hydrotherapy and gentle cycling.
12+ weeks
Compliance to your treatment programme is essential in order to facilitate your recovery.The time it takes to get you back to a level you were previously will depend on your dedication to your treatment programme.
Your physiotherapist at this stage will focus on returning you to the social or sporting activities important to you. Physiotherapy treatment will help you make long-term improvements so that you reach your maximum physical potential. Recovery may take up to 6 months but physiotherapy will regain your movement and strength and return you to your activities as soon as possible.
For more information call Physio.co.uk now on 0330 088 7800 or to book an appointment please contact us.